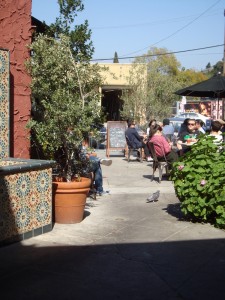 When we visited Los Angeles over March break I had one of my most favorite meals (well top 25, anyways) at a cafeteria style restaurant called Forage.  The lunch was delicious, no doubt.  But the thing that really caught my attention was their commitment to locally grown produce.  Not just from farms nearby, but from local neighbours. Once a week they'll buy produce grown by gardeners in the neighbourhood and create their week's menu around it.  How cool is that?
Local Sources
In the Toronto area we have a wonderful resource for locally sourced food in Stacey Fokas.  She's a chef and cookbook author I met last month at a seminar on hormones.  Stacey has made it her mission to search out local suppliers for fruit and vegetable growers, meat producers, bakeries, cheese producers, wineries and breweries.  She's written about a number of them in her cookbook, Freshalicious, and on her website Freshalicious.ca.
Stacey calls Freshalicious a cookbook like no other, and I have to agree with her.  It's very inspiring to think about sourcing local foods, but I haven't had the time to dive into that area.  Stacey has done the legwork and has profiled over 30 local producers who use sustainable, organic practices in their businesses.  She's based in Caledon, so her sources all are about an hour's drive from home. 
Stacey suggests waiting for the local produce to come to market to support them and to keep our food choices flexible.  When we buy imported vegetables, like asparagus, the market gets saturated by lower priced products and there is less incentive for local growers to plant them.  Over time, local farmers concentrate on cash crops and stop planting these types of crops.
Ontario is the leading producer of farmed rainbow trout in Canada.  The bulk of the production is in the north, around the waters of Georgian Bay, Lake Huron and off the shores of Manitoulin Island.  Although farmed fish can have a bad rep, Ontario farmed fish is claimed to be among the most strictly regulated in the world. Stacey recommends Silvercreek Aquaculture, located in Erin, at the source of the Credit River, as a source for trout.  A great Canadian source for information about sustainable seafood is Oceanwise They list restaurants and retail outlets for sustainable, ocean-friendly seafood across Canada.
Here's one of Stacey's tasty recipes, perfect for spring.
Crunchy Flax Trout with Sprouts
 Fish
1 trout, rinsed and skinned
Sprinkle of sea salt
1 tsp dried tarragon
1 beaten egg
6 tbsp organic flax
Sunflower oil for frying
2 chopped garlic cloves
Sprouts
5 cups bean sprouts
Sprinkle of sea salt
¼ cup chopped fresh dill
Season the trout with sea salt and tarragon,.  Dip one side into egg wash and then into a plate of flax and set on another plate, flax side up.  Fry the trout on medium heat in sunflower oil and chopped garlic, flax side down first, for 3 – 3 ½ minutes per side.  Set aside on a clean plate.   
Wipe the pan with a paper towel, drizzle with sunflower oil, put back on medium heat, and toss in bean sprouts and sea salt.  Fry for a few minutes until sprouts start to go clear, and finish off with fresh dill.
Serve fish and sprouts with a rice/wild rice.  Enjoy!